Moqups
Ease of Use -

9/10

Value for Money -

8.5/10

Tool UI -

8.5/10

Ease of Learning -

9/10
Summary
Moqups is a lite, web based application for designers primarily used for making quick wireframes and detailed mockups. It has an amazing library of icons, stencils and font family which you can use. It has a free as well as a paid version, and is very easy to use with videos available on Youtube for any help that you might require. You can easily share and and even prototype your work with others and collaborate as a team.
Introduction
Moqups is a streamlined web app that helps users to create and collaborate on diagrams, mockups, wireframes and prototypes. It's an all-in-one online platform that smart, fast and simple to use.
Every designer has several applications loaded on their systems which take up too much space. Moqups on other hand solves this problem since it's a web-based application. Not only that, it is easy to grasp and quick to work with. It has an absolutely simple UI with only the necessary tools and not with unnecessary jazz that would distract you with and which would otherwise be useless and time-consuming. You can also build your team within the app and collaborate without the hassle of uploading and downloading files. It has a built-in library with a drag and drop feature, which adds to Moqups's simplicity and ease of use.
Moqups Features
1. Extensive Library
There is no suitable adjective to define Moqups' amazing library. With its icon set, and stencils you won't require to import other items from outside, which saves a lot of time. These stencils are divided into 9 sections; common, shapes, navigation, charts, flowchart diagrams, spec tools, iOS components, material design, bootstrap and legacy. In each of these sections, you will find something useful to help you build your diagrams. Icons definitely help as placeholders for the set of icons which you are going to use later, but if you have to quickly make wireframes and get approval from the client, these built-in things look visually pleasing and save on time.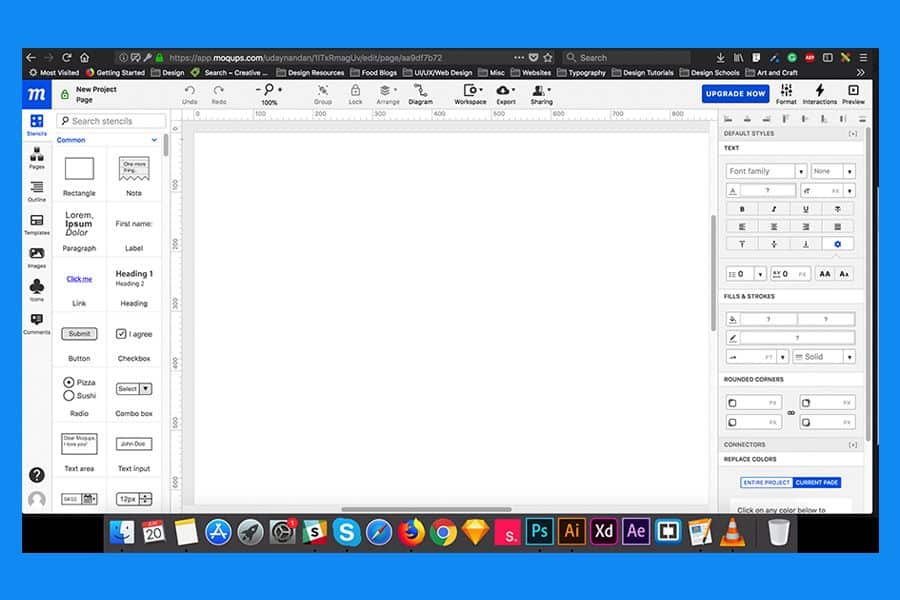 Moqups – UI
2. Drag and Drop Technology
The simple all time favourite drag an drop technology is what this application uses, making it user-friendly and thus improving the user experience.
3. Grids, Guides and Rulers
Moqups has precise grids, guides and rulers and more options under its workspace panel which makes it easy to fix and make items on pages. This way you don't have to worry about any spacing and alignment issues, as it will align correctly with the existing items.
4. Free and Paid Options
Depending on one's pocket and requirement, the user can choose which plans it requires and which suits best to their needs.
5. All in One
From diagrams, wireframes and prototypes, Moqups has got everything which one requires to make for their project. The user does not require to switch between different platforms and look for other apps to prototype.
6. Easy Sharing
Work from anywhere, anytime and share with whosoever you want to keep in the loop with Moqups. Being a cloud-based application it is easy to share with people who are miles away. You can adjust the settings which allow users to either edit or just view the work, this way you can restrict project interaction of each individual.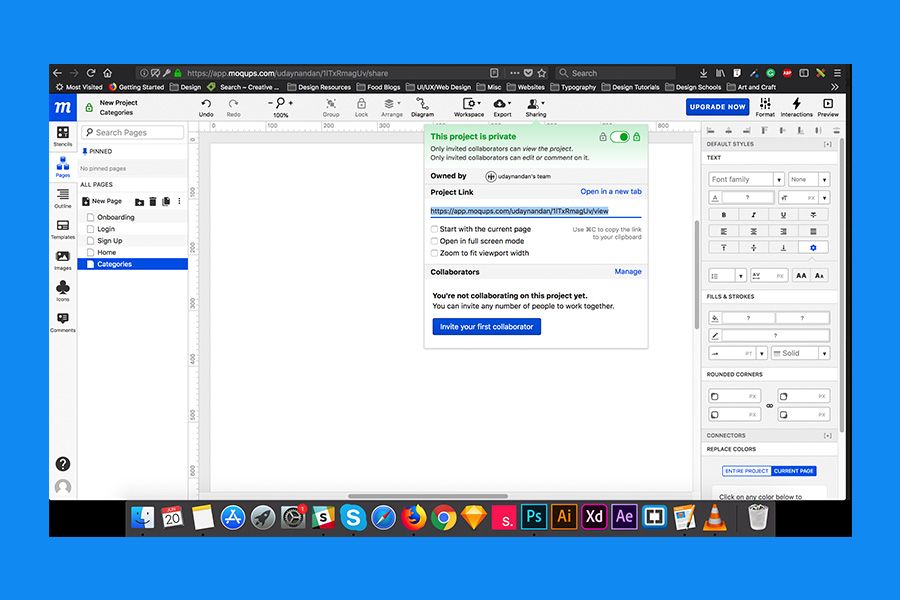 Moqups – Sharing
7. No registration
Yes, you read that right. To use the free version you don't have to register yourself like other applications. Just click on the link on their website and it will directly take you to their application page. It's that easy, smart and simple.
8. Various exporting options
You can export your work in any format and then share it via email. It has all the options which you need, PDF, PNG etc. You can choose to export the entire project or just particular pages.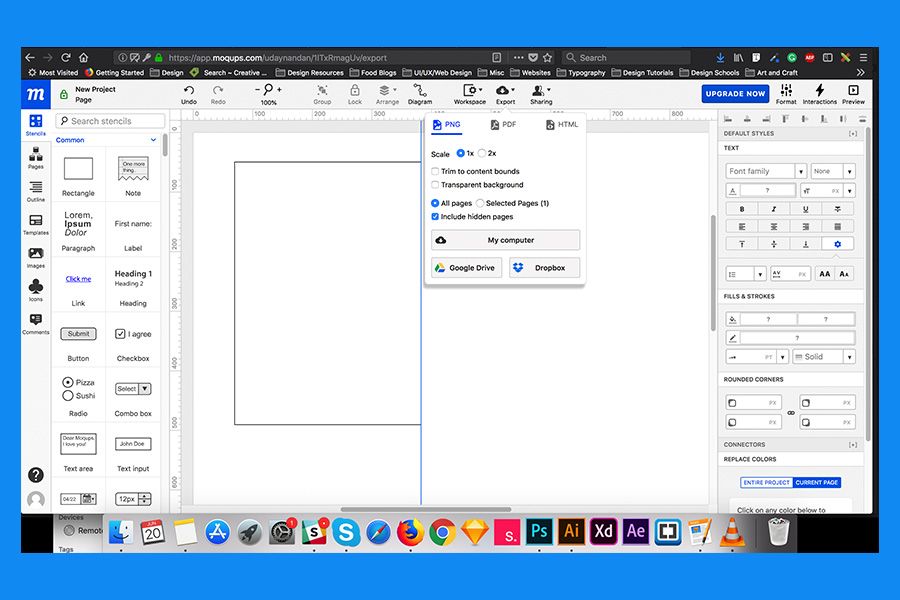 Moqups – Export
9. Fonts and styling options
You don't have to go around and hunt for the right font to upload for your project as Moqups has a wide variety of font family which is inbuilt. With this library, you ought to find the right font for your work. Not only that, you can stylise your fonts in whatever way you want.
10. Page management
The page management system is very useful; it creates a page hierarchy and puts them in order of your preference (you can change the preference by just dragging and dropping). You can also add them in folders for easy navigation and then search for them on the search panel.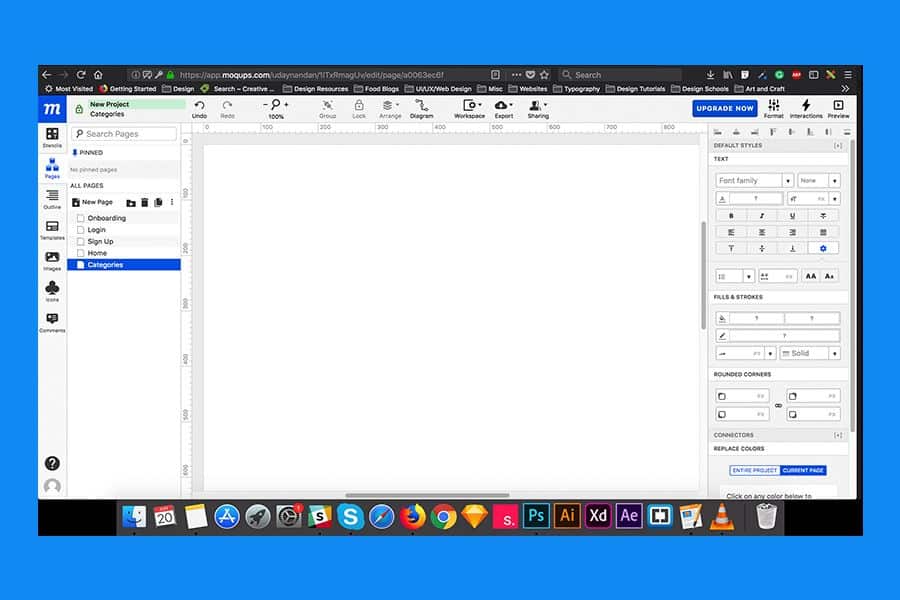 Moqups – Pages
Pricing
Moqups has both monthly and annual plans. The annual plans being cheaper (up to 40%) of course. It is divided into three sections personal, creative team and enterprise.
Personal
Monthly: $19 USD/month, a single user with unlimited image storage, projects, objects and comments
Annual: $13 USD/month, a single user with unlimited image storage, projects, objects and comments
Creative team
Monthly: $29 USD/month, 3 users with unlimited image storage, projects, objects and comments
Annual: $19 USD/month, 3 users with unlimited image storage, projects, objects and comments
Enterprise
If you are an enterprise and are looking for a plan to help your organization's prototyping and diagramming needs, then you can directly contact Moqups for a price quote.
They also have a free plan in which you get storage of 300 objects and limited space. It's not much but it is still cool if you want to experiment around and get a feel for the app.
Support
Their support team is really nice and respond quickly to queries. Moqups also supports NGOs, schools and non-profits. All you have to do is drop them a mail and they might provide you with a Premium account at no cost. They even support open-source projects as well. If you do decide to cancel your subscription you will get a refund within 30 days, and if the time period has lapsed then they will consider special cases and give refunds wherever applicable and appropriate.
Although it is an easy application to learn Moqups has many video tutorials online for all levels of learning. So if you are beginner or an expert level user, there is something for everyone in their online tutorials.
Experience with Moqups
Hands down, it is the easiest and most appropriate application for wireframing and prototyping. It does all of these jobs in minutes. With its existing library, you won't have to look around for placeholder icons and stencils. The user interface is welcoming and navigation is unquestionably simple. We have used Moqups many, many times to create quick wireframes for client projects. We used Moqups to clean up our paper sketches of ideas and solutions and present the flows to the clients. The tool is easy to use with a clutter-free UI which helps us deliver quick results. We definitely would recommend giving this tool a go if you ever need to create quick wireframes and diagrams.
Conclusion
There sure are plenty of wireframing prototyping tools in the market now, each one having their own features. Moqups is a cool nifty little application which takes care of your wireframing and prototyping needs perfectly. It is the right tool for the job and is lightning fast and easy to learn. Being web-based, it doesn't even take any space, and with its various plans, you can choose whatever suits your needs. There are other wireframing tools like Adobe XD, OmniGraffle, Lucidchart all of which have features unique to them that make them stand out. While we do agree none of them are perfect, it's not always about the tool, but how well you use it to make our lives easy.