Ease of Use -

9/10

Tool Look and Feel -

8/10

Template Library -

8/10

Pricing -

7/10
Summary
Lucidchart is an online diagramming application, which lets you make and share professional flowcharts. It is for everyone; an engineer, businessperson or a designer. It saves time with its pre-made templates which offer maximum flexibility. It has various importing options, and Microsoft Office integration, so you don't have to worry when it comes to saving and sharing files.
What is Lucidchart?
It lets you make diagrams like flowcharts, wireframes, Venn diagrams, mind maps, floor plans and others, in less time than you would actually take to make them otherwise. It is an extremely unique web application with complete compatibility with other programs like G Suite.
Lucidchart reduces the use of traditional pen and paper as professionally everyone has to make such diagrams to express their thoughts to their co-workers, boss, clients or just for their own understanding. You can sign up for free to use this amazing application, or pay to get other benefits.
Features
Template Library
It has every template that you can imagine. Ranging from Android phones to education, engineering, sales, site maps etc. it can be useful for any person or organisation. These templates are easy to use and understand and edit. Although the free version only offers storage up to three documents, you can store them somewhere else for later use.
Lucidchart Templates
Arrows
While making the charts especially UML diagrams, one requires various kinds of arrows, as they mean different things (dashed, continuous, connecting). Lucidchart has all of these and even more, which offers the user a wide range of things to choose from and greater flexibility.
Shape library
It has an amazing shape library from square to rectangle, diamond, circle etc. and once you have selected the shape of a particular size that you don't have to go back and select the size again. This way it is responsive and remembers your last selected shape.
Lucidchart Shape Library
Ease of use
Lucidchart is very easy to use and uses Leonardo da Vinci's mantra '" simplicity is the ultimate sophistication" to stand apart from the crowd. It uses easy drag and drops technology with a clean and sleek user interface which gives even better user experience. It even has keyboard shortcuts another highlight which makes it user-friendly and cuts the time and stress involved while making any kind of charts.
Lucidchart UI
Collaboration
It is easy to collaborate with anyone on projects. It even has a special team account for people working on team projects who continuously require to share and collaborate on ideas. It also gives complete control to the user as to who is viewing and editing the files.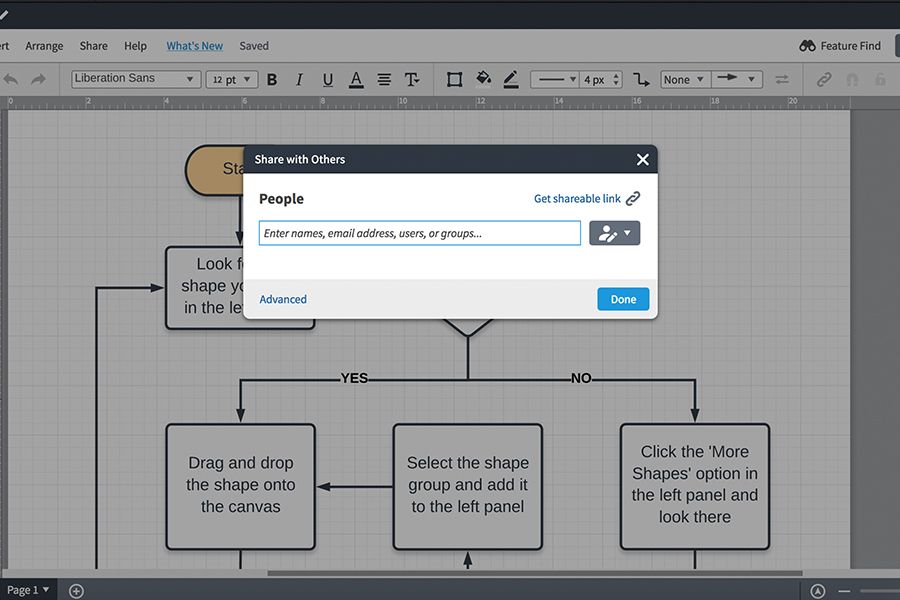 Lucidchart – Easily Share and Collaborate on Files
Full integration
It easily fits in the existing Google Drive and software like Jira Software, Confluence, Jive. This way the user doesn't have to worry about integration and saving the pages.
Flexible Import/export
It has complete Microsoft Office integration, not just while exporting but also importing so you don't have to worry what kind of file it is before using this application.
Publish and Share
Not just exporting, it also offers seamless publishing and sharing, with its interactive layer technology and demo mode, you can show how your app will run to others, especially useful for designers.
Lucidchart Solutions
Lucidchart is a tool that provides a solution to every one of your diagramming needs. Some of the solutions are:
Lucidchart for Sales
Mac Visio Alternative
Visio Alternative
Decision Tree Maker
UML Diagram Tool
Org Chart Software
ER Diagram Tool
Flowchart Software
Concept Map Maker
Pros and Cons of Lucidchart
Lucidchart is an extremely useful tool when it comes to making quick diagrams and wireframes for a project. Just like any other tool present, it does have its pros and cons.
Pros
Extremely easy to use with several templates
Easy to edit
Integration with Google Drive, Confluence, JIRA and Jive
Easy for collaboration, group chat and comments
Several editable shapes
Secure and reliable
Online presence
Cons
Limited storage capacity
No Desktop App
Very few features in the free version
Experience using Lucidchart
Before coming across Lucidchart I was wondering why would anyone require an app to make wireframes and mind maps. But after using it for only 3 days, I have completely changed my mind. I realised I was wasting my precious time in making boxes and arrows and painstakingly connecting them to each other for others to make sense out of it. Lucidchart has definitely made it very easy and reduced my time. I can use it for Android or IOS, tablets of web screens, name it and Lucidchart has it. It even as a mobile version application for both Android and IOS, making it a cross-platform application.
As a designer, I shall recommend it completely as it makes things easier when you are explaining your concepts to others. Communication is the key, Lucidchart has helped me express myself to my colleagues better and clearer.
Although the free version limits the users to 25mb of storage space, to only 3 documents at a time, and just to import and view, the paid ones are better and give you several other benefits.
Lucidchart Pricing
You can sign up for Lucidchart for free and get started with creating diagrams and flowcharts. If you think you will be using more of the tool, then you can purchase the pro plan for a single user or your team which works out at $9.95/$12.95 per month, paid annually.
Lucidchart has special educational pricing. Free accounts are offered to students and teachers. Nonprofit organizations also have special discounts on Lucidchart plans. For more details on the discounts and pricing, you can get in touch with Lucidchart and they will get back to you with a price quote.
Lucidchart Support
Lucidchart has an active online community for users who have queries and want to know more about Lucidchart. They also have plenty of resources and guides on how to begin using the tool. For more details on pricing, getting a price quote or to schedule a demo, one can fill up a quick form and support will get in touch with you. Give them a call, send them an email and you'll receive a quick response to your queries.
Conclusion
If making wireframes, flowcharts and other kinds of diagrams take most of your time at work, I recommend using Lucidchart for that purpose. It is easy to use and has many tutorials online if you ever run into any kind of problem. It is adaptable, intuitive and has a cross-platform presence; that could be a reason why everyone is using and talking about it.