Wave.video Review
Experience of Tool -

8/10

Tool Pricing -

8/10

Customer Support -

8/10

Ease of Creating Videos and Animations -

8/10

Learning Curve -

8/10
Summary
Wave.video is a nifty online tool that makes the process of creating videos and animations easy and fun. With a wide variety of features and easy to use interface, it is the go to tool to making all those marketing and promotion videos for your company.
User Review – We recently used it
We run a design company and quite often we get requests from clients asking "do you guys make explainer videos, whiteboard videos, logo animations, logo effects etc.". We always use to take up the work and then pass it on to our partners who make the videos. This process went on for a while but later it became an expensive affair for the client. Even a small screen animation video also has to go to a professional company who charge a bomb.
This is when we realized why not help the clients in making small videos which do not cost much to their pockets. Our googling for the video makers online has started and we landed in Animatron. We were impressed by the way the features are shown, samples are showcased. We really wanted a software just like this.
This is it, we have taken the Annual Agency plan of $79 and started exploring. After you log in, you will see a very simple and straight UI which is very intuitive. You will see a timeline in the bottom and rest all is very easy to figure out. The UI will handhold you properly to explore and make the video.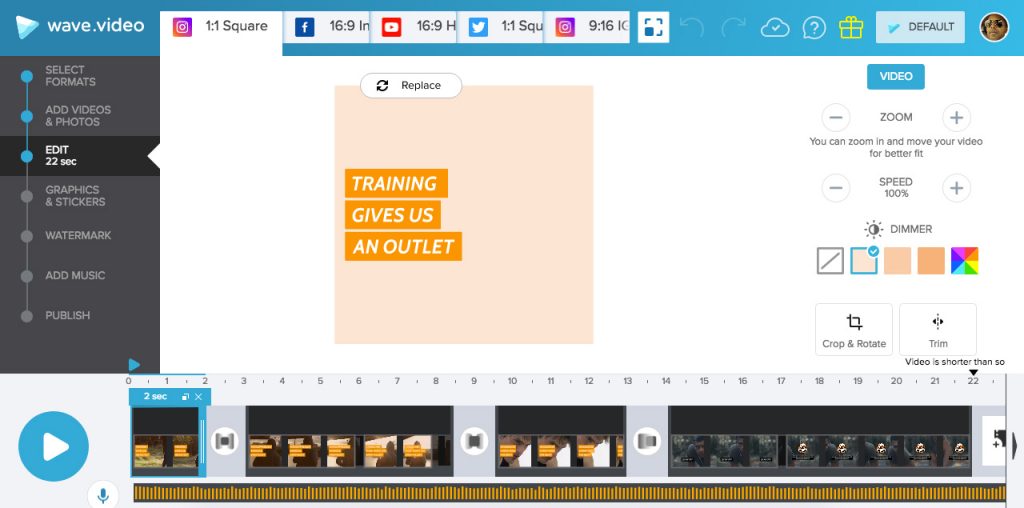 Try Wave for free
Highlights
Unlimited usage of 500,000 videos, images, and sounds
Supports over 30 video publishing formats
Provides for unlimited video projects
Comes with a library of over 200,000,000 premium assets
Upload original video footage
Custom watermark
Allows one custom brand presets
Up to 5 minutes video length
What is Wave.Video?
Wave is an online video editor that allows users to quickly craft captivating and professional quality videos with minimal effort. In particular, it is inherently designed for creating social media or marketing videos. Launched back in 2011, this tool comes with incredible features and resources to support hassle-free editing and customization of videos to suit specific purposes. You will be able to bring to life videos in a wide range of formats compatible with all the popular social media platforms through simple drag and drop interaction. In essence, you can utilize Wave.Video to make social or promotional videos attractive by including or playing around with visual effects, text effects, sounds, orientation, branding and so on.
Who can use this software?
There is no real limit on who can take utilize this application in their video making projects. All the same digital marketing agencies, social media influencers, online marketers, bloggers, startups, SME's and seasoned companies can all leverage on the power of this tool.
Features of Wave.Video
Over 30+ video formats
Wave.Video allows users to publish their videos in over 30 different formats optimized and sharable across multiple social media platforms. In a click you can get all your aspect ratios and resize your videos match up to the specific platform you may want to share it. Apart from the standard format, you can choose Landscape, square landscape, Instagram story, mobile or FB cover just to mention. So whether you need to stick to universal standard specifications or you need to optimize to suit promotional needs it remains easy to switch from one format to another.
Creating your own Instagram stories using wave.video
200 million stock footage library
With Wave.Video you do not need to worry about not having enough video footage. You will be more than impressed with its well-endowed stock footage library that gives access to videos, images and sounds for unlimited use in unlimited projects. There is both free and low cost per use resources, therefore, you can have the right balance of high-quality videos, audios, and images without spending so much money.
Import
Wave's import feature allows users to bring into the platform their own assets such as images, videos and audio files. If you can't find what suits your objectives in the existing library nothing should hold you back because you can easily import your own video clips, images, and music through simple drag-and-drop.
Export and sharing
Besides allowing you import assets into the application, you can also easily download and export complete projects to all the popular social media platforms. Users can automatically and directly share animations and videos made on Wave.Video into their preferred sites without any limitation.
Templates
Given its template-driven approach to video creation, Wave.Video boasts of an ever-growing selection of video templates. You can pick from the great collection of equally stunning options and tailor them comfortably to your exact taste. The templates cater to varying themes and styles including art and culture, events, fashion and beauty, holidays, tech, travel, real estate, and trends among others. Regardless of your niche, you can always find something relevant to get everything rolling.
Edit and preview
This application features a white label preview from where you can edit and see the changes as they happen. Seamlessly refine and preview your videos, show the project to stakeholders for feedback before wrapping up everything.
Content calendar
Perhaps this one among the most helpful features any user will find of Wave.Video. The content calendar is really handy in that it offers a clever way for users to get inspirations for their projects on daily basis. Each day of the year it gives hints on what to post through relevant tips, hashtags, video template(s) appropriate for that particular day, events, and themes that match up to the prevailing conversations on social media platforms. All you have to do is click on the suggestions and a new screen automatically comes up giving further ideas on how to get going.
Integrations
Needless to say, Wave is compatible with popular marketing and social sites such as Facebook, YouTube, Twitter, Hubspot, Wistia, Dropbox, Google Drive, and Vimeo. This allows users not only to post directly on the platforms in a click but also host and analyze video performance effortlessly.
Free Text Positioning
To allow users more creative options with text, Wave supports unrestricted positioning on the canvas. Freely move, rotate or place text in any spot on your video to give your message the attention it deserves. Moreover, there are many stylish fonts and effect to choose from making it rather easy to give your text a fitting visual appeal.
Favourites and purchased tabs
These folders help users keep up with images, videos o audio clips they purchase or import into Wave.Video. And when you come across an inspiring asset when browsing through the library and you think you may need it later you can have it in your favorite tab for easier access anytime you want.
Advanced sound editing and voiceover
When it comes to giving your video relevant sounds, Wave boasts of advanced customization options. Talk about clipping or trimming your audios, adding music tracks, and blending multiple clips, it is as efficient as it gets. Wave.Video allows you to combine stock content and one's own media (made possible by the voice over function) to give the resulting video the perfect sound.
Customize your video to match your brand
With this software, you do not have to apply the same text styles and brand logos every other time you are working on a new video. Instead, you can save your default brand styles and settings and apply them instantly when the need arises. Choose and save custom colours, fonts, logos, backgrounds, text features, and watermark eliminating the need to redo this each time.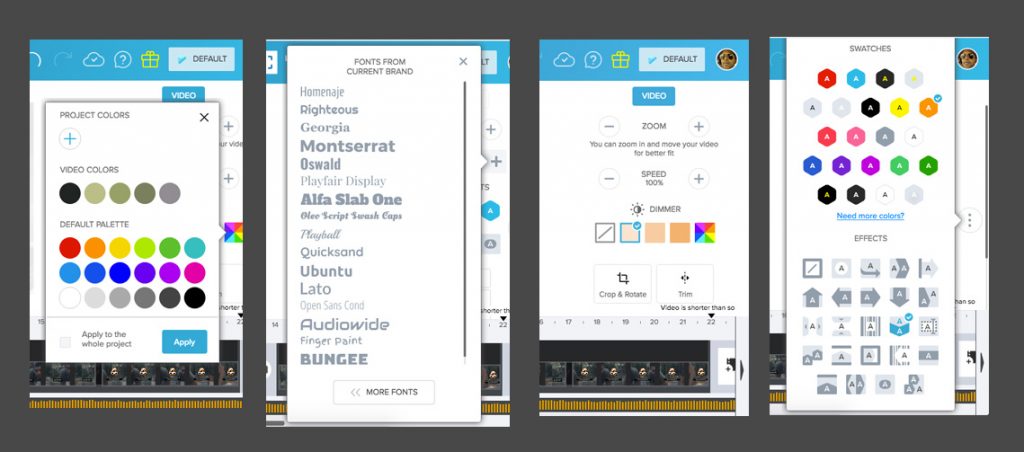 Wave.video – Pros vs. Cons
Pros:
Great user experience- get started easily and learn your way around in no time
Features an inspiring stock library and templates
Gives high-quality results
Convenient- since its cloud-based no installations or plugins
Offers plenty of customization options
Great social sharing functionality
Allows creation of unlimited videos
Cons:
May take some time rending longer videos
Pricing
Pro
For professionals and small businesses
Available at $39 per month annual plan or $59 month to month
Agency plan
Ideal for freelancers and agencies
Available at $ 49 per month annual plan or $79 month to month
Features
Includes unlimited usage of 500,000 videos, images and sounds
Supports over 30 video publishing formats
Permits unlimited video projects
Comes with a library of over 200,000,000 premium assets for purchase
Upload original video footage
Custom watermark
Custom brand presets of up to 25 brands
Allows creation of videos up to 15 minutes long
Has 3rd party resale rights
Upload custom fonts
White label preview
Priority customer support
Ultimate plan
Suitable for large agencies and corporate marketers
Available at $ 149 per month paid yearly or $239 per month
Includes unlimited usage of 500,000 videos, images and sounds
Features
30+ video publishing formats
Supports unlimited video projects
Has a library of over 200,000,000 premium assets available for purchase
Upload original video footage
Custom watermark
Custom brand presets of up to 150 brands
Allows videos up to 15 minutes long
3rd party resale rights
Upload custom fonts
White label preview
Priority customer support
Free version
If you need to have a feel what Wave.Video has to offer you can try it by signing up for the free version. With the free plan, you can create up to 10 projects.
Enterprise plan
If you need a bigger plan than the above you can contact support for the enterprise plan which offers more custom options at special pricing.
Conclusion
Wave.Video provides an efficient way of producing quick high-quality videos to promote products, services, ideas among other things. The impressive list of features and flexibility of functionality allows even the inexperienced to curate engaging videos in no time. In short, this tool gives you every reason to get excited about everything video creation and editing.