Avocode Review
Ease of Use - Designers & Developers -

8/10

Pricing -

7/10

Team Collaboration -

8/10

Customer Support -

7/10

User Interface -

9/10
Summary
Avocode solves the pressing issues of having to explain developers each and everything about the design along with having to prepare the assets for them. With Avocode's easy to use, clean and user-friendly UI and a host of useful features, it truly makes work quick and efficient. Easily add files, modify and change n number of times, collaborate with your teams and download the code for multiple platforms. Truly a time saver of a tool.
Remember those days when you had to sit on lengthy calls with your developers just to get your designs developed? Or spending a whole day just making them understand what needs to be done? Well, that's a thing of the past now. With quite a few tools present to make life easy for designers and developers, we couldn't be happier. One such popular tool is Avocode.
Avocode is a platform-independent tool that helps designers covert Sketch, Photoshop, Adobe XD and Figma designs to Web, Android, iOS and React Native code. Design handoffs can be an absolute pain; preparing assets, making multiple design changes to the point you have no clue which was the file that needed to be coded … the problems are plenty. Avocode simplifies this process; just drag and drop your files and everything gets updated. Now isn't that cool?
A quick demo of Avocode
So now that we know what Avocode does, let's talk about the features that make this tool an absolute lifesaver. Ready? Let's dive in.
Features
Hand-off & inspect
You can easily drag and drop your finishes designs into Avocode. It works on any OS; which makes it a great fit for teams with big and diverse development flows. Whichever tool your team uses, it works with Avocode. Also, share your designs easily with anyone; just copy and paste a link to share your designs with colleagues. It's easy to also set permissions specific to only your team members so your designs stay safe. With Avocode, you can show/hide, scale, rename and export any later. Easily export all your assets in PNG, JPEG, SVG and more formats. Another cool thing? Automatic image optimization for all your assets.
You can also get all your assets and specs from Photoshop, Adobe XD or Sketch, to make it a real product, all in the way a developer will be need them. The best thing about this? No need to buy expensive design tools or to buzz the designer every single time.
Avocode automatically generates useful code so your developer does have to write stylesheets from scratch. Easily adjust the code output and speed up your development with project-wide variables. Avocode lets you measure units in pixels, pts or do, depending on the platform you need it for. Easily import colours in all codes and customize your code export.
Team collaboration
With Avocode, your team, clients, (basically with anyone you share your project with) can easily have look at any design version you share and discuss changes and push the project ahead. You can chat right on top of designs, discuss changes right on the design, tag your teammates and colleagues and create threaded chats. Also, whenever any changes happen, you can get notified in the chat tool of your choice. Another great thing about Avocode is you're allowed to change and manage user access permissions. You can give your clients certain permissions, thus ensuring your internal designs still remain private.
Design management
Avocode helps you track design changes and make sure your project is going on smoothly. You can keep your design files organized, synced and always backed up in the cloud, so the team always has an updated version of your designs. Avocode maintains an unlimited version history of each file to avoid conflicts. This makes it easier for your team to always know which files are the latest in the tool. You can also create unlimited subfolders for your projects, keep moving your files from folder to folder, and keep tracking the progress of your project. You can be assured your files are always safe due to continuous back up to the cloud.
Integrations
Avocode allows you to integrate with your favourite apps and tools to speed up and improve your workflow. You can connect with apps like Slack, Dropbox, Google Drive, Visual Studio Code and many others.
Open Source
Avocode also shares few of its libraries which developers can use to build applications.
Avocode – Personal Experience
In the studio where I work, we have used Avocode for a couple of our projects to ensure a smooth delivery of the design files. It was quite easy to drop in our files and share it with our client's developers. The best thing about Avocode is its availability on multiple platforms and OS. It sure made all our lives easy. Avocode ensured that our clients could easily view the designs, view the updated designs and work on changes right in the tool. The developers didn't have any troubles downloading the code to build the products without the need to build code from scratch. The efforts to explain the code and ideas to the developers was considerably reduced and we had quite fewer problems dealing with UI issues especially with exporting visual assets. It was also easy for the clients as well as the developers to check out the newer and updated versions of the designs. Avocode is definitely a tool we will continue to use for our future projects and we look forward to their new and upcoming features.
Pricing
Avocode has a free 14-day trial, no questions asked. If after using, you would love to continue to use it, you can select from any of the below 4 packages.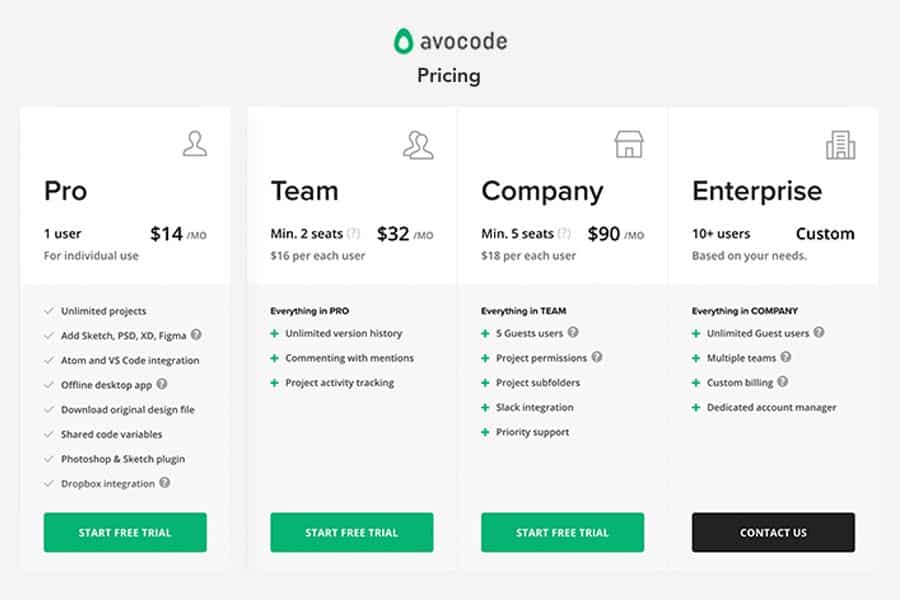 Avocode vs. Zeplin
Both Avocode and Zeplin have quite similar functionalities but differ in their own ways.
Avocode works on all major platforms; Windows, Mac and Linux and a web app. Zeplin has a Windows and Mac app which users can download.
While one can sign up for Zeplin for free (to use for just 1 project; if you need it for multiple projects, you can choose from any of their packages), Avocode has a14 day trial period after which you can choose any of their packages to continue using the tool.
A plus point for Avocode is the ability to add endless number of revisions and versions for the screens uploaded, which Zeplin does not support.
Another plus point to Avocode is the easy exporting of all your visual assets, which Zeplin can't do at the moment. You either may have to use another tool for this or do it by hand.
Both the tools have their own pros and cons. Generally, users have their own preferences; some show loyalty towards Avocode and some feel Zeplin works really well. It's all up to you which tool you want to use and whichever you find easier to use and get used to.
Avocode Design Converter
Avocode also has a design converter tool which is currently still in its beta version. Using this online tool, you can convert your PSD files to Sketch files (which otherwise result in just an image getting pasted in Sketch). This tool generates a Sketch file from your Photoshop file, retaining all your layers, shapes, fonts and any other assets. You will receive an email of the converted file. Avocode is also working on other variations of this tool, where you can convert your Sketch or Photoshop file to an Adobe XD file and vice versa (only Sketch though).
Support
Getting stuck with how to use Avocode or want to know more about it? Head over to their Help Center for answers to all queries related to using the tool, assistance with the packages and pricing, account settings and even more. Users can also suggest a future feature they would love to see in Avocode. They can also report bugs or issues that they face and their support do their best to resolve it as soon as possible. Overall, Avocode has a brilliant support centre to resolve any query users may have.
Conclusion
Avocode is an absolute time saver of a tool. It makes it easy to sign off and send design files and coordinate with developers when it comes to coding the design. Avocode has plenty of features which make it the go to tool for designers and developers. There are also a few new features coming up soon, and we sure are looking forward to them. We do recommend giving this tool a try and see how it works for you.